Two people dead, 5-year-old missing as 'parade of cyclones' batters California
FORT BRAGG, Calif. — Two people are dead, a 5-year-old is missing and some Californians were ordered to flee their homes Monday as a "parade of cyclones" slammed the state.
In Avila Beach, roughly 180 miles north of Los Angeles, two people were killed when their vehicle was overtaken by water, said Scott Jalbert, an official with the San Luis Obispo County Office of Emergency Services.
In the northern section of the county, near Paso Robles, floodwaters swamped a vehicle driving through a low creek bed, Jalbert said. An adult was rescued, but a child was swept away, he said.
A team from the San Luis Obispo County Sheriff's Office called off their search Monday afternoon because weather conditions were "too extreme," spokesman Tony Coppola said.
"We're seeing our creeks and rivers flow like they haven't flowed in decades," Jalbert said. "So they're pretty monstrous."
In Santa Barbara County, all residents in the community of Montecito were ordered to evacuate Monday afternoon "based on the continuing high rate of rainfall with no indication that that is going to change before nightfall," said Santa Barbara County Sheriff Bill Brown. Heavy rainfall in the area, home to 10,000 people, had flooded roads and creeks, he said.
The flooding came five years to the day after heavy rains tore through a Montecito "burn scar," killing nearly two dozen people.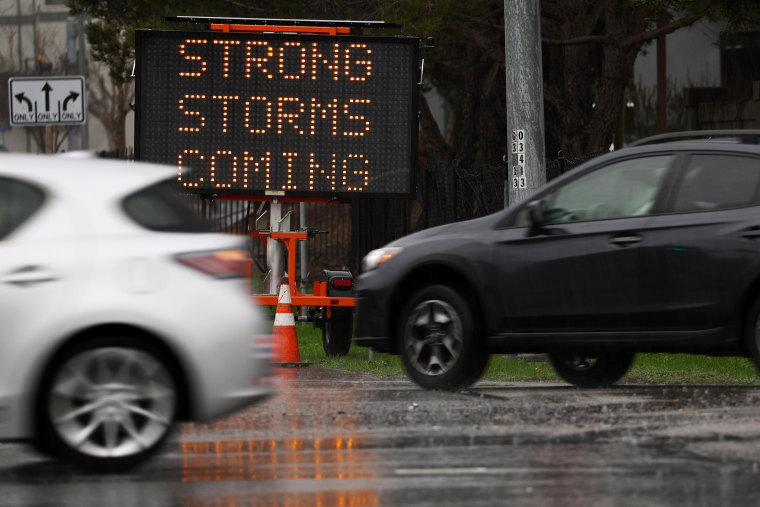 Two "major episodes" of heavy rain and mountain snow were expected in rapid succession, with multiple cyclones barreling toward the state, the National Weather Service warned.
Two of the more "energetic and moisture-laden parade of cyclones" were "aiming directly for California," it said.
Rainfall totals
As of Monday afternoon, more than 10 inches of rain had fallen in the previous 24 hours in Bonny Doon, just north of Santa Cruz, according to the National Weather Service.
Between 3 and 5 inches was recorded across a wide swath of the Central and Northern California coast, from Hearst Castle in San Luis Obispo County to Redwood City, just south of San Francisco, the agency said.
A second episode is expected Tuesday, resulting in slightly less heavy amounts, but impacting areas farther south into Southern California, it said.
The cumulative effect of the rainfall is expected to cause flooding, including "rapid water rises, mudslides and the potential for major river flooding," it warned.
California Highway Patrol in Santa Cruz warned of multiple road closures Monday, including a landslide that has blocked Highway 17 south of Glenwood Drive.
The Montrose Search and Rescue team worked with the Los Angeles County Sheriff's Office overnight to rescue a group of hikers who were caught between two rising river crossings Sunday night. The group included five children and three adults.
Issues with power lines and weather prevented a helicopter rescue, but two members of the sheriff's office were able to access the canyon to assist the hikers out.
"After a few recent recoveries of tragic fatalities, this rescue of eight came at the perfect time, reminding us why we volunteer to do this," the Montrose rescue team said on Instagram Monday.
On Monday, seven people were rescued from a river in Ventura County, a county fire department spokesperson said. Video published by the agency showed a man climbing a ladder toward what appeared to be the roof of a home.