Stranger Things play set more than 20 years before Netflix series to open in West End this year | Ents & Arts News
Stranger Things has been a huge hit ever since it launched in 2016, taking viewers back to the 1980s and also into the alternate dimension of the "Upside Down".
A fifth season that is in the works is set to be the final TV visit to the fictional town of Hawkins, Indiana – but fans will still be able to get their Stranger Things fix.
A new play, Stranger Things: The First Shadow, set more than 20 years before the events of the hit sci-fi series, will follow characters Jim Hopper, Bob Newby and Henry Creel when they were younger.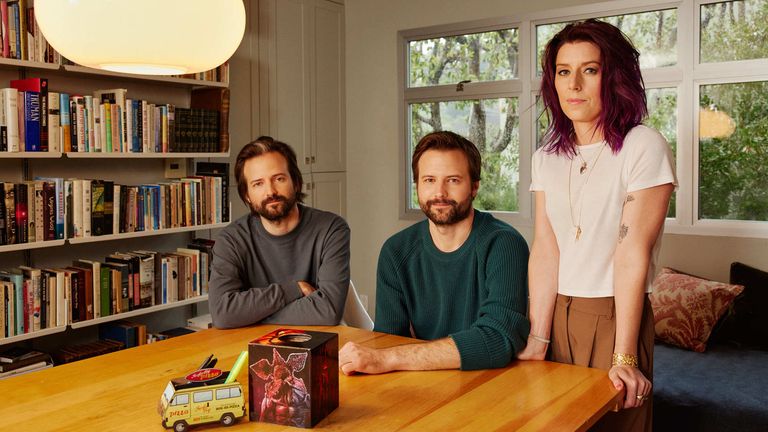 The West End show is written by TV series writer and co-executive producer Kate Trefry and directed by The Crown's Stephen Daldry.
Producers have revealed details about the play, saying the story will open in 1959 in Hawkins as a young Hopper's car fails to start and Joyce Maldonado – who viewers will know as Joyce Byers in the TV series – tries to graduate and leave.
New student Creel is also introduced, producers said. His family find "a fresh start isn't so easy… and the shadows of the past have a very long reach" – as the beginning of Stranger Things "may hold the key to the end".
'Can't wait to see you nerds in London!'
Matt and Ross Duffer, who are the creators, directors and executive producers of the Netflix series, said: "You will meet endearing new characters, as well as very familiar ones, on a journey into the past that sets the groundwork for the future of Stranger Things.
"We're dying to tell you more about the story but won't – it's more fun to discover it for yourself. Can't wait to see you nerds in London."
Greg Lombardo, vice president of live experiences for Netflix, said: "Stranger Things has captured the imagination of fans around the world and we are incredibly thrilled to expand this exciting universe with Netflix's first live stage production."
Read more:
Stranger Things pushes Kate Bush song to UK chart peak after almost 40 years
Actor David Harbour opens up about mental health struggles
In the TV series, police chief Hopper is played by David Harbour, Sean Astin played Radioshack manager Newby and Jamie Campbell Bower and Raphael Luce portrayed Creel.
Details of when tickets will go on sale in the spring will be announced in April.
The play opens in late 2023 at the Phoenix Theatre in London.