Millions across U.S. under winter alerts as cities from California to Maine brace for snow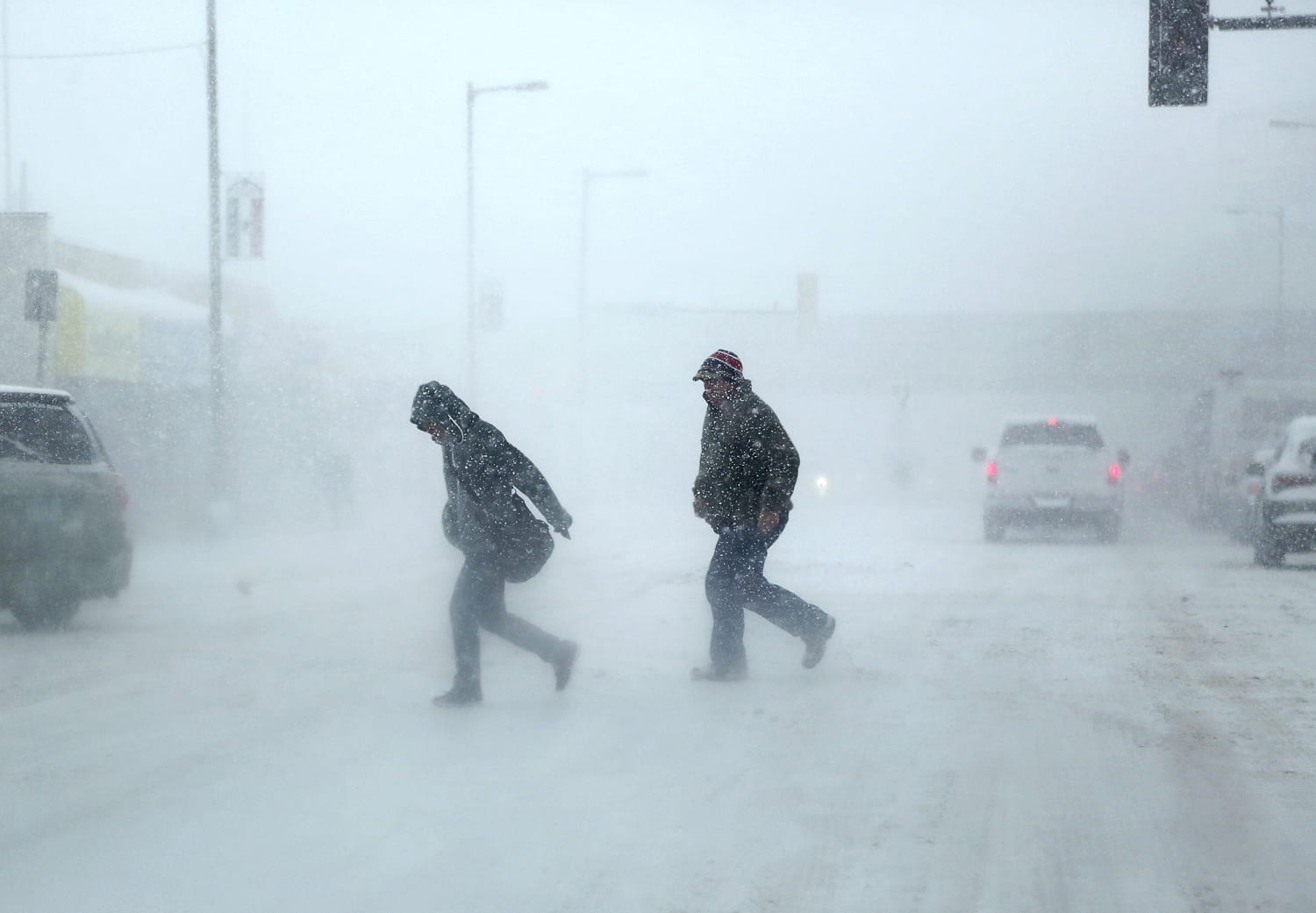 About 42 million people are under winter alerts from California to Maine, with Minneapolis bracing for its biggest snowstorm in more than a decade and potentially life-threatening travel conditions.
Blizzard warnings have been issued for parts of the Rockies, the northern Plains and the Upper Midwest. St. Cloud, Minnesota, was already under one.
Forecasters cautioned that Minneapolis could be added to the blizzard warnings later Tuesday, which would be rare for the historically snowy city.
"Due to obstructions, it is hard to get blizzard conditions in major metropolitan areas such as the Twin Cities, but with the actively falling snow and strong winds, this would be an event that could do so," the National Weather Service in Twin Cities said in its Tuesday morning forecast.
The storm will feature two rounds of snow totaling 1 to 2 feet by the time the system wraps up Thursday.
Timeline of snow
The first round of snow started around lunchtime Tuesday across the region, with 5 to 7 inches (locally higher of 8 to 9 inches) possible through the night. Winds are expected to be in the 10-15 mph range.
A lull is expected Wednesday from 6 a.m. to noon local time. Light snow could still be falling, but some locations along Interstate 90 could see a break in the snow completely.
The second round of snow is expected to begin around noon Thursday, adding 10 to 15 inches to snowfall totals and producing 45-50 mph wind gusts at times.
By the time that round ends, a large area of southern Minnesota will have over a foot of snow, with some areas picking up nearly 2 feet.
Rapid City is forecast to get 8 to 14 inches and Marquette could see 12 to 18 inches.
Should the current forecast of 18 to 25 inches of snow come to fruition for Minneapolis, it will be the city's biggest snowstorm in 12 years, according to the Minnesota Department of Natural Resources, and has potential to be one of the top five biggest for the city.
Travel will be impacted
Heavy snow falling at 1 to 2 inches per hour combined with strong wind gusts will make travel impossible and life-threatening for 12 or more hours Wednesday night into Thursday in and around the Twin Cities.
Cities most likely to experience treacherous travel conditions, power outages, downed trees and whiteout conditions due to a glaze of ice include Chicago, Detroit, Hartford, Connecticut; Des Moines, Iowa; Madison, Wisconsin; Grand Rapids, Michigan; and Buffalo and Albany in New York.
As many as 8 million people are at risk for severe storms Wednesday stretching from northern Missouri to the Oklahoma-Texas border. All hazards will be possible, including hail, high winds and a tornado or two. Oklahoma City and Tulsa will be the cities most at risk for damaging winds due to very fast-moving storms.
Rare snow in California
California will also make weather headlines this week in the form of rare, low-elevation snow. A winter storm watch was issued Tuesday for parts of the San Francisco Bay Area. The last time that happened was in 2011.
Up to 3 inches of snow is likely in the Santa Cruz mountains and the eastern hills of Santa Clara County on Wednesday night. This area will likely get another watch Thursday as an even colder storm arrives.
The late-week storm could bring snow to locations just outside Los Angeles as well.
Any snow accumulation will be very unlikely in major cities such as San Francisco and Los Angeles, but it is likely to fall nearby in lower elevation mountains.
Meanwhile, temperatures could soar 20 to 30 degrees above average in other parts of the country, leading to close to 100 daily records.
If Washington, D.C., hits 80 degrees Thursday, it will be just the fourth time it has done so during a winter month. Orlando, Florida, could hit the 90s.