Helicopter crash near Kyiv kindergarten kills at least 18, including Ukraine's interior minister
Ukrainian Prime Minister Denys Shmyhal said he had ordered a special commission to be created to lead an investigation into the circumstances of the tragedy.
Yurii Ihnat, spokesperson for Ukraine's Air Force Command, said the commission would include a number of aviation experts. "It is too early to talk about the causes of the crash," Ihnat said, speaking during a national telethon. 
Shmyhal and other officials in Kyiv paid tribute to their colleagues, with the prime minister calling Wednesday's tragedy "a great loss for the government team and the entire state."
"My sincere condolences to the families of all the victims," he said.
"My colleagues, my friends. What a tragic loss," interior ministry adviser Anton Gerashchenko wrote in a tweet. "Deepest condolences to their families."
Olena Zelenska, Ukraine's first lady, could also be seen daubing away tears Wednesday morning before attending a World Economic Forum session in Davos, Switzerland, according to The Associated Press.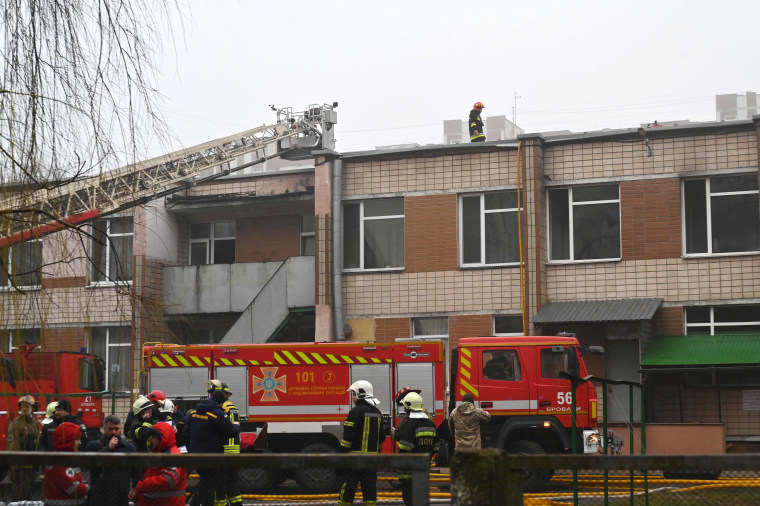 Forum President Borge Brende asked for 15 seconds of silence after opening the session to honor the Ukrainian officials killed in the crash.
Tributes from officials from around the world also began to pour in on social media.
The U.S. ambassador to Ukraine, Bridget A. Brink, said on Twitter that she was "shocked and saddened by the terrible news from Brovary."
Charles Michel, president of the European Council, remembered Monastyrsky as a "great friend of the EU."
"We join #Ukraine in grief following the tragic helicopter accident in #Brovary," he wrote in a tweet offering his condolences to the families of the victims, as well as to Ukraine's leadership.
This is a developing story. Please check back for updates.
Artem Grudinin, Daryna Mayer and Mahalia Dobson contributed.