Biden and Putin to speak on Russia-Ukraine war anniversary
China's top diplomat to visit Russia
China's top diplomat Wang Yi will visit Russia, foreign ministry spokesperson Wang Wenbin announced Tuesday, amid Western fears that the two countries would forge closer ties.
The announcement of the widely expected trip came as Foreign Minister Qin Gang said China was "deeply worried" about the war in Ukraine escalating.
China has long refrained from condemning Moscow for the invasion, and on Monday hit back at U.S. allegations that it may be providing Russia nonlethal military assistance.
U.S. to boost sanctions-evasion measures
The United States will intensify coordination with its allies and companies to prevent Russia from evading sanctions it has imposed, Deputy Secretary of Treasury Wally Adeyemo has said.
"We're making it harder for Russia to build the military equipment they need and harder for them to use the dwindling money they have to source it from abroad," he said, as Western officials look for more ways to cut Russia's financing of its war in Ukraine, now nearing its one-year anniversary.
Among the products that will fall under the new measures are refrigerators, which are being purchased for their semi-conductors, Adeyemo said.
"Our goal is to further increase the cost that Russia will pay to evade our sanctions going forward," he said, adding that the U.S. will pressure jurisdictions and corporations to choose between serving Russia or the West.
Photo: Biden lands in Warsaw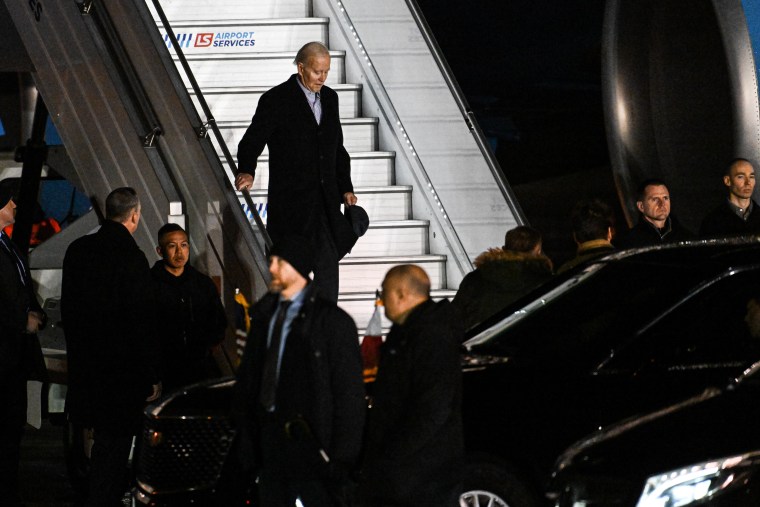 President Biden arrives in Warsaw, Poland, late Monday.
Head of Ukrainian railroads hails Biden's trip on 'RailForceOne'
The CEO of Ukraine's state-owned railway system hailed President Joe Biden's trip on the network during his surprise visit to the country.
"It was an honor and a privilege for me and the whole #IronTeam of Ukrainian Railways to deal with this visit. I must say, it was complicated. But we did it. That's how #RailForceOne appeared," Alexander Kamyshin wrote on Twitter.
Biden, who famously commuted from Washington to his home in Delaware daily on Amtrak, is known to be fond of trains.
Meanwhile, Ukraine Railways has been credited with helping the country survive the Russian invasion, withstanding deadly bomb attacks to transport goods and people throughout the country.
Photo: View from Putin's lectern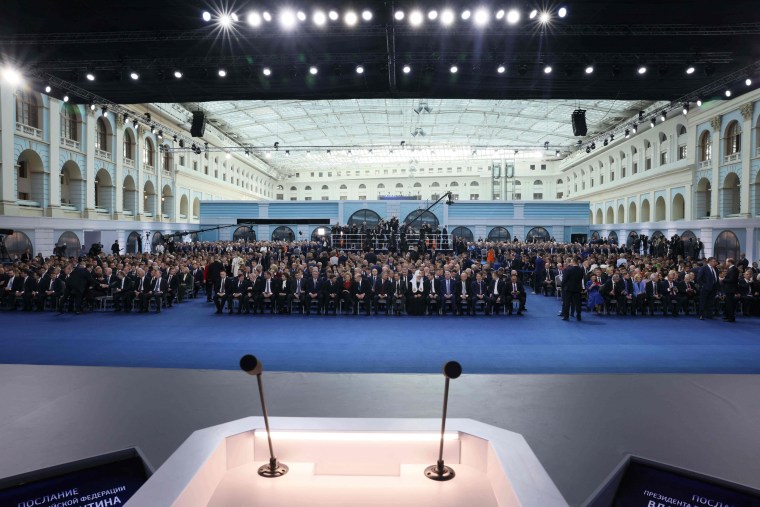 Dignitaries gather for Russian President Vladimir Putin's annual state of the nation address in central Moscow on Thursday.
Russia to build additional highway to Crimea, Putin says
Russia will build a new highway to Crimea to better connect itself with the peninsula it annexed in 2014, Russian President Vladimir Putin told Parliament Tuesday.
"We will create a new highway to Crimea and connect it to the rest of Russia and all regions of Russia, providing direct support to cities and towns of Donetsk and Luhank and other regions," he said as he unveiled a raft of economic plans during an annual address.
Russia's existing signature link to Crimea, the Kerch Bridge, was set ablaze after an explosion in Oct. 2022, severely damaging Russia's ability to re-supply its southern troops. Russia had expected to topple the government of President Volodymyr Zelenskyy swiftly after the invasion a year ago, but its forces have become bogged down after a robust Ukrainian response.
Putin also said Russia "will continue our program of social restoration" of the four eastern regions of Ukraine — Donetsk, Luhansk, Kherson and Zaporizhzhia — which it claims to have annexed in Sept. 2022. This is despite Russia's failure to prevent Ukraine from retaking control of large swaths of the region.
Photo: Putin addresses Russian Parliament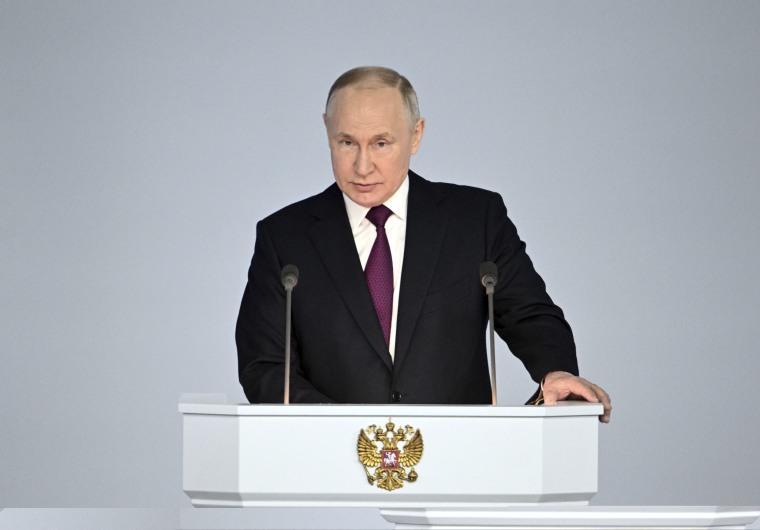 Russian President Vladimir Putin delivers his annual address to the Federal Assembly, including lawmakers of the State Duma, members of the Federation Council, regional governors and other officials in Moscow on Tuesday.
Putin claims Kyiv and its western allies started the war
Days before the anniversary of Russia's invasion of Ukraine, President Vladimir Putin claimed Ukraine and its Western allies had starting of the war.
"They started it," Putin told lawmakers in Moscow.
On Feb. 24, 2022, thousands of Russian forces crossed the border into Ukraine, launching a major conflict that has destabilized the world order and isolated Russia. This followed the annexation of the Crimean Peninsula in 2014, and years of supporting pro-Russian separatists in eastern Ukraine.
Many anticipate Putin's long-delayed state-of-the-nation speech to set the tone for the year ahead and shed light on how the Kremlin sees its bogged-down war, which it officially calls a "special military operation."
Photo: Quiet streets outside the Kremlin ahead of Putin speech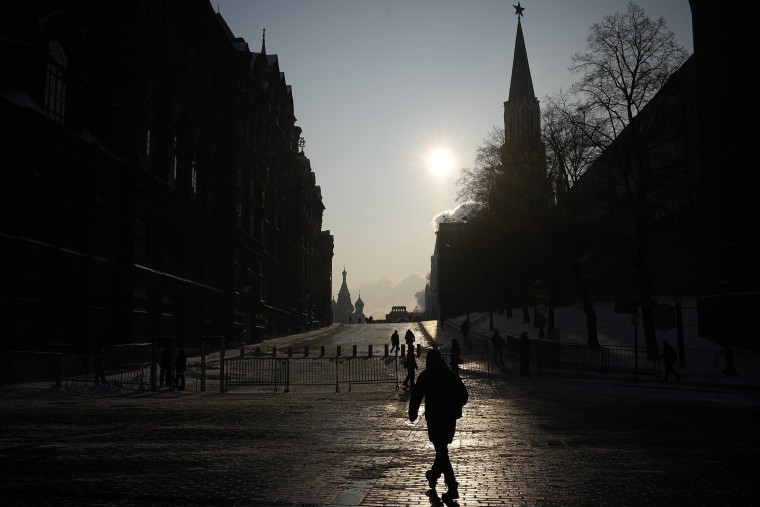 Red Square in central Moscow is closed for security reasons prior to Russian President Vladimir Putin's state of the nation address on Tuesday.
China 'deeply worried' over escalation of war
China is "deeply worried" about the war in Ukraine spiraling out of control, the country's foreign minister said Tuesday.
"We urge certain countries to immediately stop fueling the fire, stop shifting blame to China and stop touting Ukraine today, Taiwan tomorrow," Qin Gang told a security conference in Beijing, in an apparent dig at the United States and its allies' support towards both Ukraine and Taiwan.
"Since the outbreak of the crisis, China has taken an objective and impartial stance based on the merits of the issues," he said.
While China has long refrained from condemning Moscow for its invasion, he said China was seeking "common security" and was ready to promote dialogue and consultation towards ending the crisis.
Russian ruble weakens ahead of Putin address to parliament
This content was produced in Russia, where the law restricts coverage of Russian military operations in Ukraine.
MOSCOW — The ruble weakened on Tuesday despite increased demand for the currency as Russian President Vladimir Putin prepares to address lawmakers on the Ukraine conflict.
Early Tuesday, the ruble was 0.7% weaker against the dollar at 75.05, edging closer to an almost 10-month low of 75.30 hit on Friday.
The currency is usually in greater demand before month-end taxes are due on Feb. 28, when exporters typically convert their foreign currency revenue.
"The weakening in the first half of February is to a large degree linked with psychological pessimism over the expectation of new sanctions," said Andrei Kochetkov, lead analyst at Otkritie Research.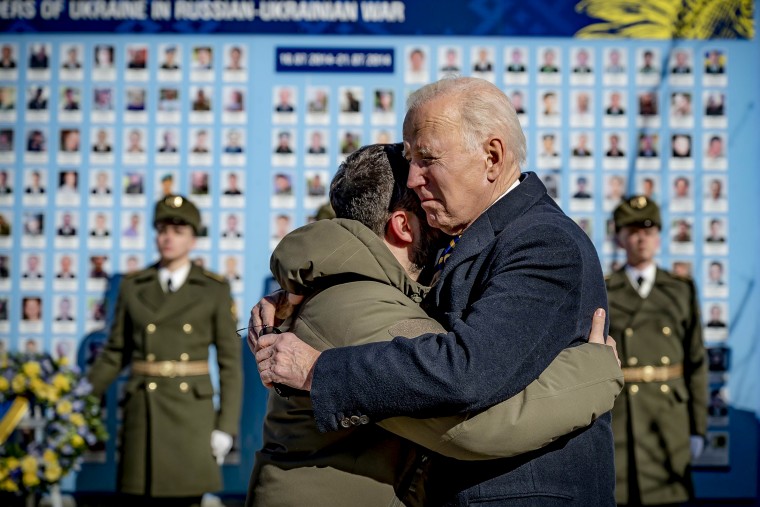 Some House Republicans criticize Biden for trip into Ukraine
Biden's surprise trip to Ukraine on Monday drew a range of attacks from conservative Republicans who accused him of neglecting issues back at home, including the southern border.
Read more here.
Rep. Jason Crow on why he thinks Biden should send Ukraine F-16s
Rep. Jason Crow, D-Colo., is one of five lawmakers hailing from both parties who signed a letter pressing Biden to send F-16 fighter jets to Ukraine — military assistance Biden has previously said the U.S. would not be willing to provide.
Crow said in an interview on "Andrea Mitchell Reports" Monday that Ukraine needs the jets in order "to go on the offensive and retake territory as soon as the mud season ends, otherwise the Russians will rebuild their military power and will continue to try to press this fight."
The fourth-generation fights would give Ukraine a chance at establishing air superiority, "which they haven't been able to do since the first days of the war," Crow added.
Surprise and joy greeted Biden as Kyiv's mystery guest
Before news of Biden's secret trip filtered out, residents of the Ukrainian capital reported closed roads and unusual traffic jams, stoking the social media rumor mill with suggestions of a high-profile guest.
Few expected to see the president of the United States walking around the center of town soon after, an unannounced ambassador of hope that the Western alliance backing Ukraine's defense against the Kremlin's attacks can remain strong.
Evheniy Lazarenko, 30, told NBC News he was surprised given the dangers involved, which made Biden's presence all the more appreciated. Read more from on the ground in Kyiv here.