100,000 without power in California as forecasters warn of 'relentless' cyclones
More than 100,000 utility customers in California were without power Sunday evening after torrential downpours and high winds battered the northern part of the state, with more extreme weather predicted.
Sunday night in the state capital region, the Sacramento County Office of Emergency Services ordered residents in unincorporated Wilton, with has a population of more than 6,200, to evacuate immediately.
"Flooding is imminent," the county order stated. "Out of an abundance of caution, residents must leave now before roads become impassable. Rising water may spill over onto the nearest roadways and cut off access to leave the area."
Forecasters said 6 to 12 inches of rain was expected through Wednesday in the Sacramento-area foothills.
The Sacramento County Office of Emergency Services also warned of winds as strong as 60 mph in the Wilton community, which is southeast of the city of Sacramento. An evacuation center was opened in Elk Grove, county officials said.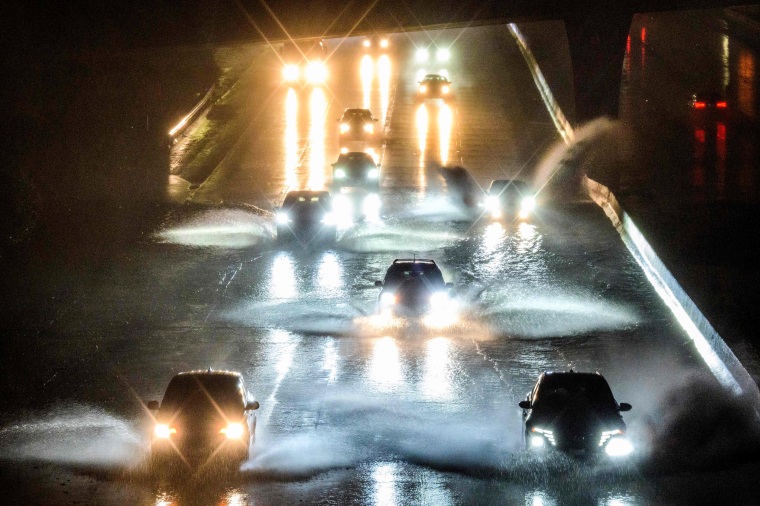 Sunday night, the Santa Cruz County Sheriff-Coroner issued an evacuation warning for residents of low-elevation communities, urging them to prepare to flee with little notice by packing necessary belongings.
"If possible, consider moving prior to the start of the weather system," the warning for residents of the county just south of the Bay Area states.
Stockton public schools in the Central Valley will be closed Monday due to "extreme weather conditions," according to a district statement. Likewise, the Galt Joint Union High School District said it was closing its campuses Monday as outages and flooding were affecting the community of Galt, California, south of Sacramento.
Power was restored to more than 400,000 homes and businesses following outages for 540,000 California utility customers early Sunday, according to electricity tracker PowerOutage.us.
By evening, 119,578 utility customers remained in the dark, the tracker said. Most of the outages were in the northern portion of the state.
Sunday's front downed trees, branches and power lines, the National Weather Service office that covers Sacramento said. In the Bay Area, a section of the Guadalupe River in San Jose was the subject of a National Weather Service flood warning Sunday night.
The San Francisco Fire Department tweeted images of downed trees and flooded buildings on Saturday. San Francisco Public Works announced it could supply 10 sandbags per household and business in preparation for the weekend's wet weather.
"This is a very big storm, very widespread impacts across much of the state that we're hoping the Californians will keep an eye on through the next couple of days," National Weather Service regional meteorologist Eric Schoening said at a state news conference Sunday evening.
Karla Nemeth, director of the California Department of Water Resources, said the storm affecting Sacramento on Sunday was the fifth of the season, with a sixth expected to strike the state Thursday.
She described the storms as part atmospheric river events, fronts incubated in the Gulf of Alaska and fed by precipitation from the tropical Pacific.
"We are working under conditions of intense saturation," Nemeth said at the news conference. "Even moderate levels of rainfall can produce significant flooding impacts."
California Office of Emergency Services director Nancy Ward added that floods kill more people in California than any other natural disaster, including the state's notorious wildfires.
The National Weather Service said Sunday in a bulletin that the back-to-back storms could produce mudslides, flash flooding, and debris flows.
The West Coast "remains under the target of a relentless parade of cyclones," which will intensify over the Pacific Ocean while moving toward land, the NWS said.
The front that affected Northern California was moving south and east into Central and Southern California, where flooding, tree damage and winds as strong as 70 mph were possible, federal forecasters said.
At least six people have died in the severe weather since New Year's weekend, including a toddler killed by a fallen redwood tree crushing a mobile home in Northern California.
Gov. Gavin Newsom declared a state of emergency Wednesday as California was engulfed by rain and snow, which produced flooding across the state. The declaration will allow local jurisdictions and state agencies to respond faster to the changing weather.
California soil has long been weakened by drought and summer wildfires, which cause trees to turn brittle or burn down. This reduces the amount of interference for rainfall, which quickly forms streams on parched ground and leads to greater flood risk.
Climate change has already made extreme precipitation in California twice as likely, with extreme weather predicted to generate between 200% and 400% of surface runoff — rainwater that cannot be absorbed by soil — by the end of the century, according to research by the UCLA department of the environment and sustainability.
Wade Crawford, state secretary of natural resources, said at Sunday's news conference that January's weather has been "supercharged by climate change."
Reuters, Associated Press, Dennis Romero, Josh Cradduck and Erick Mendoza contributed.